In view of the significant budget that many companies dedicate every year to management consulting, a number of companies consider developing internal organization expertise. In the previous article (Part 1), I have outlined the benefits that such an internal consulting team can bring. This article (Part 2) provides recommendations on how to build such a team.
As outlined in my previous article (The benefits of an internal organization team), an internal organization team can be very beneficial. If you decide to build-up internal organization expertise, you will have to address the following 3 questions: Where to recruit from? Where to position the team in your organization? What are the key success factors of such a team?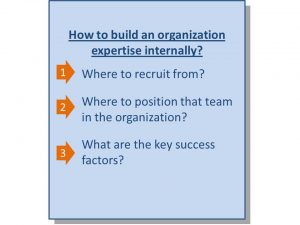 1) Where to recruit from?
The staffing of this team is of crucial importance. You need to bring in top expertise. My recommendation is to avoid nominating people from within your organization. Even if they may show interest in change management or project management, they are likely to lack deeper organizational expertise.
I would rather advise targeting talents from the leading consulting firms. These talents have experienced organization change requirements in many different organizations and have a broad knowledge of tools and methodology. That will help lifting up the internal organization expertise right from the start and it will give the necessary credibility to that internal team.
In terms of profiles, I would recommend recruiting from (or just below) partner level for the head of the internal team and to add confirmed senior consultants below. It is also advisable to recruit them from different consulting firms in order to have a broader spread of backgrounds.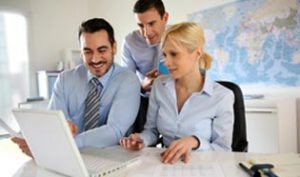 Once that base of internal organization expertise is established, you can add internal talents to the team, who will help the organization team to connect to the organization. Spending a couple of years as part of such an internal organization team can be a great career step for high potentials in your organization. It will offer them a broader understanding of the company and exposure to top management. The organization expertise they will be able to acquire will certainly be highly beneficial for their future assignments.
2) Where to position the team in your organization?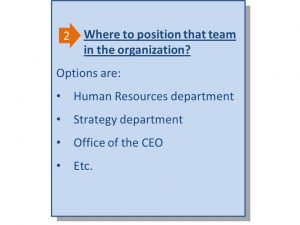 There are different options for the positioning of the internal organization expertise.
Some companies chose to make it part of the global Human Resources team. Increasingly, HR business partners are expected to provide organizational support to the teams they support. It can make sense from that perspective to have the organization experts as part of that function, so that they can partner up with the HR leaders. Having People and Organization covered together may also allow taking a holistic perspective on the topics of capability building and human capital management.
Other options for the position of the organization team also exist. It has been made part of the Strategy department or of Business Development in some cases. Or it can be integrated into a Business Support function if it exists or be connected to the office of the CEO.
There is no right or wrong. It depends on the organizational configuration of your company and on the profile of the leaders of these departments. I would certainly recommend ensuring that the leader of the hosting department has an appetite for organizational questions and feels committed to support that team. it is also important that she/he will allow the team to operate with a certain degree of independence.
 3) What are the key success factors of such a team?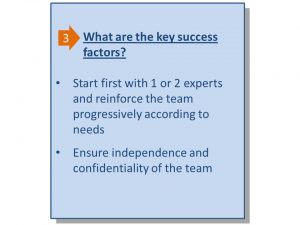 First of all, I would recommend starting small with one or two team members. I would enlarge the internal organization expertise team only once this small group has proven to be successful. Recruiting top profiles as outlined above is certainly of critical importance.
Secondly, I believe that the team will need to be able to operate with a certain degree of independence and confidentiality. Leaders in the organization will only be willing to trust the team as sparring partners if they know that the information that they share will remain confidential.
Of course, once a project is started, top management will be kept informed about the topic, and the findings will be shared. But it is important that the leaders seeking support are positioned as internal clients who are the first and privileged contact points during the project. They should be allowed to control the way the information about the problem analysis and the proposed recommendations is shared, as they would if they would work with external consultants.
The reporting of the organization team should be managed in such a way that this confidentiality is managed and is promoted as a founding principle of the organization team. Leaders will draw on the advice and support of the organization team if they are convinced of their professional expertise and of that level of confidentiality.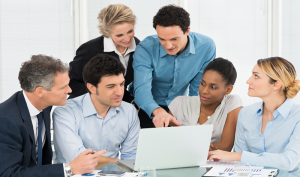 Finally, ensuring that the positions in the internal organization expertise team remain attractive is of crucial importance. Talents joining from consulting do this with the intention to peruse their career in the industry. Otherwise they are better off staying in consulting, where they can continue to develop their expertise faster. The internal organization team is a great way to enter into a large organization, because it provides exposure to senior leaders and oversight over the different activities. But it is important to ensure that attractive opportunities are made available to these talents after 2 to 4 years. That will also set the signal internally that being part of the internal organization team is a career accelerator.
More information in my book:
Sven Sommerlatte : Successful Career Strategy – An HR Practitioner's Guide to Reach Your Dream Job (Springer, June 2023).  ISBN: 978-3-662-66790-3