Introduction
The decision what company to join is of crucial importance. This is true when you start your career but as well if you decide to change employer. One of the most important selection criteria is the economic health of the company. Organizations with attractive business growth perspectives can offer better promotion opportunities and invest more in the development of their employees. Let's see the example of Sarah.
The story of Sarah
Sarah worked in a large insurance company as data scientist. After 8 years in this company, she felt that her career progression was stagnating, and she started to be more attentive to external opportunities. She saw a job add on the career page of a medium sized regional player and applied. The job interviews were positive, and she started to consider seriously a move. Until she came across a newspaper article according to which this regional insurance company had to restructure and cut cost. Several branches were supposed to be closed in the coming 3 years.

She brought that topic up in one of the interview meetings and received clear reassurance that the area where she would be working was highly promising, that data management would be further developed, and she should not worry at all about that information. Clearly, the financial offer they made was highly attractive and Sarah first felt reassured. But she kept the concern she had initially in the back of her mind. The recruiters started to put pressure and asked for a decision.

Before signing the contract that she had meanwhile received, Sarah decided to undertake a deeper analysis of that company. She took a couple of hours to review the information that was available online. She was surprised about the level of detail she could obtain. The annual report of that regional player was accessible online and business analysts' articles helped her understand the situation better. It became clearer and clearer to her that this regional insurer was in a deep crisis. They certainly had the intention to reinforce their digital activity, which was an opportunity for her, but she understood that this was most likely coming too late to save the company.

Sarah found this investigation fascinating and decided to dig deeper before making any commitment. She did remember that the friend of someone she knew was working in this company and got in contact. That person was called Jennifer. To her surprise, she was very happy to connect and to share. What she heard was a bit of a shock to her. Jennifer told her that everyone in that regional insurance company was very worried, that cost cutting was the name of the game, that people saw no future for themselves and that many were leaving. She knew about the intention to bet on digital, but she believed that this was more a pretext to reassure financial markets, because the company had not the means to operate this change with the necessary investments.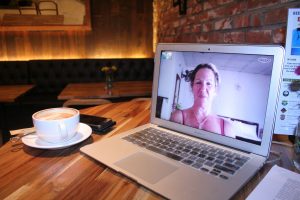 Sarah saw now very clearly what the situation was. She was relieved that she made this effort to conduct this due diligence. Her decision was obvious not to accept the offer. Only a couple of months later she learned that the digital team had been downsized with the rest of the organization and that the company was being sold. She took the firm decision to be much more vigilant from now on and not to believe at first sight what she heard from recruiters.
What can we learn from Sarah's experience?
Sarah took exactly the right approach. She used the information that is available online. In addition, she used her network to speak directly to a person who worked in that company. These are highly valuable sources of information when you must make such a crucial decision to join a new company.
I would recommend selecting those companies that have promising growth perspectives. You may follow these questions:
What are the long-term perspectives of the industry sector? Is there a risk that the technology may become obsolete because of disruptive innovation that has not been anticipated? Are there environmental risks that threaten the sustainability of that industry?
What are the customer needs this industry sector is responding to and could those change in the foreseeable future?
What is the profitability of this industry sector? What are the growth rates?
Who are the main competitors in this industry sector? Are some of the players much bigger and dominating the industry? How do their financial performance indicators compare (sales growth, profitability, R&D investments, external growth through mergers and acquisitions, etc.)?
What is the assessment of my potential future employer by financial analysts? What do industry experts say about that company?
What are employees from that company saying about this organization in social media such as Glassdoor? You will be surprised about the level of detail of the information you can find there.
Finally, be careful not to be blinded by a highly attractive compensation proposal. You may wonder why the salary offer Sarah had received was so attractive despite the financial crisis that the company was in. But this is a typical situation. Companies that suffer from high staff turnover are willing to pay above the market to attract candidates. They know that they have little else to offer. Also, these companies are very often in a short-term action mode to fight their retention problems and bring new people on board rapidly.
More information in my book:
Sven Sommerlatte : Successful Career Strategy – An HR Practitioner's Guide to Reach Your Dream Job (Springer, June 2023).  ISBN: 978-3-662-66790-3